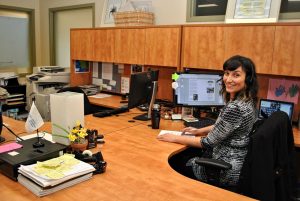 CANADIAN CANCER SOCIETY: "The South Kootenay Business Centre is the perfect location for the Canadian Cancer Society. The central office, located in the heart of downtown Trail, comes with all the amenities of a large-scale office, boasting a shared conference room and lunch room, without the overhead. The business hub was a great option for the Canadian Cancer Society when downsizing from the former office in the Gulch became a reality."
Valerie Rossi
Annual Giving Coordinator West KootenayBoundary region
Canadian Cancer Society
#15, 825 Spokane Street, Trail BC
GCM CONSULTANTS:  The South Kootenay Business Centre is nicely located and is a very good facility for us to work out of.  As a Montreal based company opening our first office in British Columbia it was important to find a professional facility at a reasonable price.
The (SKBC) staff is very responsive to our needs.  Our new office set-up went fast and efficiently. They even helped setup our virtual private network communications system.  Yes, GCM would recommend the South Kootenay Business Centre to companies thinking of doing business in the region.
Bob Richer, ing.
Business Development  & Trail  Office  Manager
GCM CONSULTANTS
KRK Designs Inc.  I moved into the SKBC because it was a perfect fit for my small business needs.  I am the only employee and my business does not have a lot of overhead.  I needed a space to work from that was clean, comfortable, secure and affordable.  The offices are fully furnished, so all you have to do is move in and you are ready to go.  The layout of the centre is great, and high speed internet is included.  SKBC fit my needs.
I would recommend the SKBC to new businesses that need a professional environment to work from.  Staff are very helpful and professional, and they have the resources needed to help start-ups in their new business venture.  They can help with anything from a business plan to looking into financing options to get your business going. Their goal is to help you to succeed in business.
Kevin Koyani
KRK Designs Inc.
Kathleen Plaa:  SKBC was a great way to start a new business – removing the worry of buying furniture for an office that was in transition. There were no decorating worries – the centre is new, clean and decorated with taste and professionalism. View Full Letter.
Kathleen Plaa
Plaa & Bell, Notaries Public